U.S. Consumer Product Safety Commission – Recall Alert
Release Date: July 30, 2020
Release Number: 20-767
Bio Source Naturals Recalls Wintergreen and Birch Sweet Essential Oils Due to Failure to Meet Child Resistant Packaging Requirement; Risk of Poisoning (Recall Alert)
Recall Summary
Name of Product: Bio Source Naturals Wintergreen and Birch Sweet Essential Oils
Hazard: The products contain the substance methyl salicylate which must be in child resistant packaging as required by the Poison Prevention Packaging Act (PPPA).  The packaging of the products are not child resistant, posing a risk of poisoning if the contents are swallowed by young children.
Remedy: Refund
Consumers should immediately store the products in a safe location out of reach of children and contact Bio Source Naturals for a full refund.  Bio Source Naturals is directly notifying all known purchasers about the recall.
Consumer Contact:
Bio Source Naturals toll-free at 877-577-8223 from 8 a.m. to 8 p.m. ET Monday through Saturday, email at [email protected] or online at www.BioSourceNaturals.com and click on 'Important Safety Information – Recall Alert' for more information. 
Recall Details
Units: About 390
Description:
This recall involves Bio Source Naturals Wintergreen and Birch Sweet Essential Oils in amber glass bottles with white or black caps.  The essential oils were sold in 0.5 fl. oz. (15 mL), 1 fl. oz. (30 mL), 2 fl. oz. (60 mL), and 4 fl. oz. (120 mL).  "Birch (Sweet)," "Betula lenta," "Wintergreen," the Bio Source Naturals logo and the volume amounts are printed on the green and white labels.
Incidents/Injuries: None reported.
Sold At: Online at BioSourceNaturals.com, Etsy.com and Amazon.com from July 2013 through June 2020 for between $5 and $40.
Manufacturer: Bio Source Naturals, of New Boston, Mich.
 Manufactured in: United States
 Photos with captions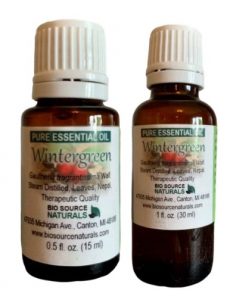 Recalled Bio Source Naturals Wintergreen Essential Oils – 15 mL and 30 mL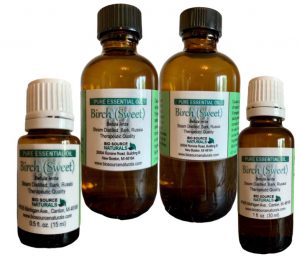 Recalled Bio Source Naturals Birch Sweet Essential Oils – 15 mL, 30 mL, 60 mL and 120 mL
___________________________________________________________________________________
Footer
About the U.S. CPSC
The U.S. Consumer Product Safety Commission (CPSC) is charged with protecting the public from unreasonable risks of injury or death associated with the use of thousands of types of consumer products.  Deaths, injuries, and property damage from consumer product incidents cost the nation more than $1 trillion annually.  CPSC's work to ensure the safety of consumer products has contributed to a decline in the rate of deaths and injuries associated with consumer products over the past 40 years.
Federal law bars any person from selling products subject to a publicly announced voluntary recall by a manufacturer or a mandatory recall ordered by the Commission.
For lifesaving information:
– Visit CPSC.gov.
– Sign up to receive our e-mail alerts.
– Follow us on Facebook, Instagram @USCPSC and Twitter @USCPSC.
– Report a dangerous product or a product-related injury on www.SaferProducts.gov.
– Call CPSC's Hotline at 800-638-2772 (TTY 301-595-7054).
– Contact a media specialist.