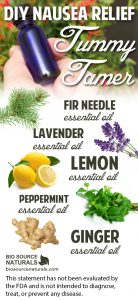 DIY nausea relief – Tummy Tamer Blend helps relieve symptoms of nausea, no matter the cause. Whether it's a hangover, the flu, motion sickness, or something you ate, this DIY essential oil blend can help!*
Whatever it is, this beneficial blend of essential oils can help clear your mind and tame your tummy.* Keep a little bottle in your purse or on-hand in your medicine cabinet!
DIY Nausea Relief – Tummy Tamer Blend
Ingredients
3 drops Fir Needle
5 drops French Lavender
6 drops Lemon
6 drops Peppermint
4 drops Ginger Root
1 Tbs of carrier oil (Sweet Almond, Jojoba, etc.)
A small, dark bottle (so the blend isn't affected by sunlight)
Directions
Mix up your blend in your bottle.
When feeling nauseous, put a bit behind your ears, on your stomach, and on your temples. Breathe!
Discover Bio Source Naturals' premium, specially priced essential oils collections here.
*This statement has not been evaluated by the FDA and is not intended to diagnose, treat, or prevent any disease.
Source
Goodall, Claire, Everyday Roots, everydayroots.com