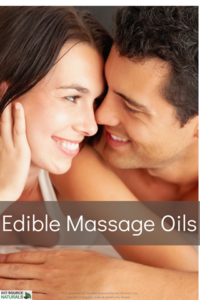 Our edible, lickable, kissable massage oils contain blends of pure plant and essential oils found on the Food and Drug Administration's GRAS list.
All of our massage oils are created with a harmonious blend of sunflower oil, apricot kernel oil, and sweet almond oil making them kissable, lickable, edible massage oils.
These sexy and kissable massage oils allow your hands to glide over the skin with ease.
They do not leave a sticky residue and are hydrating and nourishing to the skin. 
Not meant to be ingested as food.
You can buy edible massage oils from our store page or directly from this page.