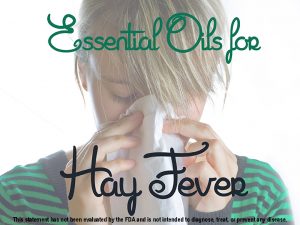 You can remedy hay fever with essential oils. The symptoms of hay fever are very similar to that of the common cold. Hay fever is an allergy generally caused by pollen or dust that makes the mucous membranes of the eyes and nose become inflamed and itchy. This then causes a runny nose and watery eyes.
As with many health challenges, essential oils can help relieve the symptoms of hay fever.* Read about our three recommended individual oils, or create your own blend to apply topically (don't forget to add a base carrier oil to your individual oils). Bio Source Naturals has a third option – our ready-made blend, Breathe Clearly, that is extremely effective to remedy hay fever with essential oils.* Use it to relieve symptoms of the common cold, too.*
Source
Worwood, Valerie Ann, The Fragrant Mind, New World Library, 1996
*This statement has not been evaluated by the FDA and is not intended to diagnose, treat, or prevent any disease.