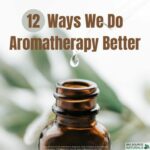 Biosource Naturals products have been used in holistic health practices since 2006. They were developed by our founder, naturopath, Lezlie Cebulski, in an effort to help clients naturally heal body, mind and spirit. Many of the blends, sprays and lotions were originally developed as custom blends for her holistic health clients.  Biosource Naturals was founded to help others in a more global way and is your one stop shop for pure essential oils & quality aromatherapy lotions, blends, sprays & massage oils. Below are 12 ways we do aromatherapy better.
The 12 Ways We Do Aromatherapy Better
Artisan made, hand-crafted of unique aromatherapy lotions and sprays as well as 100% natural, plant-based massage/body oils for moisturizing and massage.
Family-owned business.  Founded by a certified, traditional naturopath and aromatherapist on staff and available by chat, text and email.
40% wholesale discount to retailers.
No MLM pressure, no commissions to be paid. No order or monthly minimums, no subscription fees.
Direct to you, keeping prices low with high quality products. Free samples available when requested. Allow one week for shipping orders of $500 or more.
No unnecessary packaging for the sake of our environment.
Over 30 FREE downloads of essential oils charts and resources. No purchase required.
Downloadable product bulletins with purchase.
GC analyzed pure oil quality reports without big corporate overhead – no printed catalogs, no large marketing budgets, etc.
Helpful DIY information through our blog, Pinterest, emails and Facebook. All customers experience professional and responsive customer service with quality aromatherapy products with a satisfaction guarantee of all products.
Safety data sheets included with purchase on all products to ensure responsible care and appropriate use. Downloadable product bulletins and use charts.
Free Emotional Freedom Techniques scripts paired with essential oil blends, sprays and lotions to release and re-pattern negative emotional patterns. Free training for your private practice, webinars, Facebook groups, etc.
What Our Customers Say
"Your products have been an unprecedented blessing and are crafted with loving intention, in alignment with nature. A wonderful example of a business which focuses on quality and integrity—putting love first. Much gratitude"
-Rachelle Webb
"Best essential oil spray I've ever purchased, couldn't have hoped for better! Great price, fast shipping! Thank you very much!"
–Craig Hackman
"The quality of these essential oils are unlike any essential oils that I have purchased.  I used to buy my oils from various health stores and have also bought big name brand oils. These are way better. The scents last longer on my skin, and I get more for my money. I'm so happy! I'm hoping that for future needs I will only have to order from Biosource Naturals. I'm very happy with my purchase."
– Rachel Ellis
"I was recently diagnosed with Carpal Tunnel on both hands.  I was in so much pain and having difficulty sleeping.  I messaged Biosource Naturals and they suggested I try the  Carpal Tunnel Syndrome Support.  The CTS Support product has helped me finally get some rest, usually get relief for 6-8 hours.  I'm so happy I contacted them for help because nothing was helping including splints and pain medication.  Thank you so much."
– Nancy Marie
We Love our Products & Our Customers
The 12 ways we do aromatherapy better hopefully encourages you to visit our store and make us your "One Stop Shop for Pure Essential Oils & Quality Aromatherapy Lotions, Blends, Sprays & Massage Oils".
We believe the combination of consistent, quality products– with love and good intentions–help our customers gain better health emotionally, spiritually and physically.
To Your Health & Happiness,
The Bio Source Naturals Team