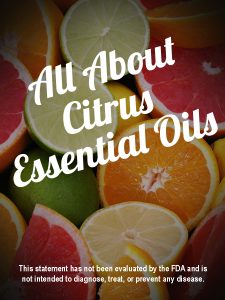 Citrus essential oils are terrific versatile oils to keep 0n hand around the house. The oils that fall into the citrus category are: Bergamot, Blood Orange, Pink Grapefruit, White Grapefruit, Lemon, Lime, Mandarin, Neroli, Petitgrain, and Tangerine. The oils are produced by steam distillation of the rinds.
Simply put, citrus oils are, oh, so multifunctional! A few of the many things they can do are: increase metabolism and promote weight loss; reduce cellulite; quell depression; improve mental clarity; make DIY beauty projects; and cleaning.* Keep reading to learn all about citrus essential oils.
Properties
Bergamot: Antidepressant, tension, fevers, stress, coughs, wounds, lethargy, anxiety, oily skin, cellulite, disinfectant*
Blood Orange: Antidepressant, aphrodisiac, antiseptic, antispasmodic, antioxidant*
Pink Grapefruit: Antiseptic, weight loss, cellulite, detoxifying*
White Grapefruit: Antidepressant, antiseptic, disinfectant, high in vitamin C, colds, flu, weight loss, cellulite, stress, muscle fatigue*
Lemon: Antiseptic, detoxifying, digestive issues, sore throat, anxiety, blood pressure, fever, relaxing, reduces fatigue*
Lime: Soothing fever, rheumatism, sore throats, headaches, anorexia, alcoholism, depression, anxiety, stress, inner and mental clarity, cellulite*
Mandarin: Energy, insomnia, digestion issues, chronic cough*
Neroli: Antidepressant, sedative, eases insomnia*
Petitgrain: Antidepressant, relaxing, deodorant*
Tangerine: Stress, tension, soothing the nervous system, fibromyalgia, cellulite*
Storage
Because citrus essential oils are so sensitive to light, it's best to keep them in a cool, dark place. The fridge is perfect!
Warning: Most citrus essential oils are phototoxic, so be sure to stay out of the sun after applying.
Read about essential oils considered generally safe by the FDA here.
*This statement has not been evaluated by the FDA and is not intended to diagnose, treat, or prevent any disease.