Edible Citrus Massage Oil contains a lively blend of  Orange, Lemon, and Lime essential oils to brighten your day and give you a positive outlook on life!*
Our massage oils are created with a harmonious carrier oil blend of Sunflower, Apricot Kernel and Sweet Almond oils. This exquisite formula allows hands to glide over the skin and achieve deep penetration. The properties found within these oils condition and soften skin while providing vitamins, minerals and proteins.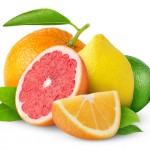 Citrus Essential Oils 
Edible Citrus Massage Oil eases stress by inducing positive thinking during stressful times.* This delicious massage oil includes Orange, Lemon, and Lime essential oils which supports the body and mind by being a coolant, stress reliever, depleting cellulite, giving strength, and promoting positive emotions.* When Edible Citrus Massage Oil is used properly it can also be used to aid issues of depression, anxiety, constipation, nervous conditions, and muscular spasms.*
Enhance Mind, Body, and Spirit
The essential oils of Orange, Lemon, and Lime make a powerful combination which enhances the ability to take in the stressful times of life with a positive attitude.  Citrus essential oils are used for many purposes, including astringents and tonics.*
Citrus oils are also known to strengthen the nervous system, reduce stress, and soothe insect bites.* The powerful essential oils used in making Edible Citrus Massage Oil has the capacity to renew inner clarity, which permits better decision-making.* It can also stimulate your sense of internal purpose while boosting liveliness to move forward.*
Finally, this lively massage oil helps the body by stimulating emotions, preventing apathy, and rejuvenating mental clarity.* It helps the body cure infections, reduces cellulite, and cleanses skin impurities.*
To purchase Edible Citrus Massage/Body Oil in an 8 ounce pump, see below.
Go here to see our entire massage oil collection or learn more about our quality massage oils.
*This statement has not been evaluated by the FDA and is not intended to diagnose, treat, or prevent any disease.