Edible Lavender Massage Oil soothes inflammation, balances energy.* Furthermore, it helps calm and relax you.* Lavender also provides relief if you're dealing with emotional issues of abandonment and feeling criticized.*
Bio Source Naturals Lavender Massage Oil contains premium grade French Lavender essential oil. Additionally, our massage oils are created with a harmonious carrier oil blend of Sunflower, Apricot Kernel and Sweet Almond oils. This exquisite formula allows hands to glide over the skin and achieve deep penetration.  The properties found within these oils condition and soften skin while providing vitamins, minerals, and proteins.
Lavender Enhances Body Wellness
Edible Lavender  Massage Oil also soothes skin irritations and helps you achieve a relaxed state. This wonderful massage oil stimulates the skin, heals impurities, and eases the mind.*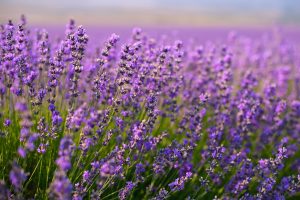 Lavender is known for soothing burns, inflammation, cuts, wounds, eczema, dermatitis, fainting, headaches, influenza, insomnia, hysteria, migraine, nausea, nervous tension, infections, bacterial conditions, sores, ulcers, acne, boils, asthma, rheumatism, and arthritis.*
Edible Lavender Massage Oil Supports Your Spirit
French Lavender essential oil is a powerful oil that enhances the well-being of your spirit. Lavender upholds your spirit by bringing a sense of deep relaxation, and supporting compassion and tenderness towards others. This oil works well to support the mind by quieting emotional anxiety and helps with insomnia.*

To purchase Lavender Edible Massage/Body Oil in an 8 ounce pump, see below. We have Edible Lavender Vanilla Massage/Body Oil, too!
Remember when purchasing pure, concentrated oils (available below), dilute in a carrier oil (also available, below) before applying directly to your skin.
To see our entire edible massage oil collection or learn more about our quality massage oils, visit here.
*This statement has not been evaluated by the FDA and is not intended to diagnose, treat, or prevent any disease.