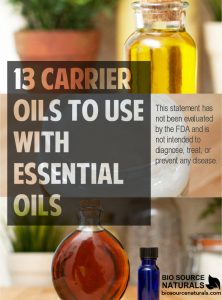 If you've been using essential oils, you've surely heard the phrase "carrier oil." Essential oils are not normally applied directly to the skin without a carrier oil because they are very powerful and can irritate or burn (referred to as applying them "neat;" some oils CAN be used this way, however).
Carrier oils dilute essential oils to keep your skin safe. They also have many great properties on their own, such as being anti-aging and containing fatty acids.*
We recommend using four to five drops of essential oils per 1-3 teaspoons of carrier oil.
Properties of Carrier Oils
cold pressed vegetable oil from the fatty part of plants (nuts or seeds)
don't evaporate
dilutes essential oils
can be used for massages and in DIY products such as lotions, bath oils, salves, etc.
little to no aroma
shorter shelf life than essential oils
13 Carrier Oils to Use with Essential Oils
Apricot Kernel Oil
Apricot kernel oil is semi-oily and contains essential fatty acids. It has a faint aroma and a medium viscosity, with revitalizing, nourishing, and moisturizing properties.* It will last a year.
Solid Coconut Oil
Coconut oil softens and conditions the skin.* It is solid beneath 75 degrees fahrenheit. It has a shorter shelf life than fractionated coconut oil.
Fractionated Coconut Oil
Softening and conditioning to the skin, fractionated coconut oil has been distilled and contains only the medium chain triglycerides of coconut oil.* It is odorless, with a thin viscosity and is quickly absorbed into the skin. It has an indefinite shelf life.
Cucumber Seed Oil
Cucumber seed oil is moisturizing and smoothes the skin's surface to improve skin elasticity.* It has excellent pore size reduction qualities as well and is effective for dry or sensitive skin.* It has a shelf life of one to two years. 
Grapeseed Oil
Grapeseed oil is all-purpose, and it contains linoleic acid, an essential fatty acid. It has a light smell, a bit nutty and sweet, with a thin viscosity. It's non-greasy, and gentle for sensitive skin!* It will last for a year.
Jojoba Oil
Golden jojoba oil is anti-inflammatory and it nourishes and protects the skin.* It's a popular carrier oil for DIY beauty products, like lip balm and lotions/salves. It has a light odor and medium viscosity, though it is easily absorbed into the skin. Natural vitamin E makes its shelf life indefinite.
Pomegranate Seed Oil
Pomegranate seed oil is deeply nourishing and chock full of antioxidants! It challenges free radicals that damage and age skin, making it an anti-aging oil to use in homemade beauty products.* It is virtually odorless, with a medium viscosity. A little goes a long way and it will last for a year. 
Prickly Pear Seed Oil
Known also as cactus seed oil, prickly pear oil has extraordinary anti-aging power and is very high in vitamin E. It repairs and restructures the skin while smoothing.* It has a light, herbal aroma and medium viscosity. Shelf life is two years.
Pumpkin Seed Oil
Pumpkin seed oil is high in protein, zinc, and polyunsaturated fats, with great healing properties.* It has a shelf life of one year.
Sunflower Oil
A wonderful, nourishing moisturizer.* It has a faint, sweet odor and a thin viscosity. It penetrates well, but can leave a bit of a residue behind. It will last a year.
Sweet Almond Oil
Sweet almond oil is an affordable, all-purpose carrier oil! Great to always have on hand, it is light, nutty, and sweet smelling, with a medium viscosity. It absorbs fairly quickly but does leave the skin feeling a bit oily. It will last a year. Avoid if allergic to nuts. 
Tomato Seed Oil
With a bright reddish color, tomato seed oil is rich in antioxidants and fatty acids. It has a light viscosity and superior skin absorption, making it an ideal carrier oil! It has a shelf life of about one and a half years.
Watermelon Seed Oil
Containing large amounts of unsaturated fatty acids, such as linoleic and oleic acids, watermelon seed oil is light and nourishing with beneficial anti-aging properties.* It has a slightly nutty odor, with a light viscosity. It is easily absorbed into the skin and has an indefinite shelf life.
Visit our website page to read more about carrier oils and to see our entire collection here.
*This statement has not been evaluated by the FDA and is not intended to diagnose, treat, or prevent any disease.