Edible Peppermint Massage Oil contains mild, spicy, traditional peppermint sprigs that are cooling and sweet at the same time, with pure essential oil of Peppermint. It helps increase the ability to pay attention, while also increasing energy and focus.*
Our massage oils are created with a harmonious carrier oil blend of Sunflower, Apricot Kernel and Sweet Almond oils. This exquisite formula allows hands to glide over the skin and achieve deep penetration. The properties found within these oils condition and soften skin while providing vitamins, minerals and proteins.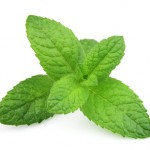 Enhancing Wellness with Peppermint Essential Oil
Enhance your health and wellness by massaging pure, concentrated Peppermint essential oil onto the skin, diluted in a carrier oil.
Peppermint stimulates the memory and well-being in the body.* It has been known to help with issues such as inflammation, nausea, indigestion, fevers, flatulence, headaches, migraines, liver problems, and arthritis.*
Many people use the scent of Peppermint oil as a stimulant. It is also used as a strong coolant, and opens the breathing passages (especially during infections).*
This pure essential oil works hand in hand with the body to ease stomach pains, nausea, and discomfort from injuries.*

Apply Essential Oils Prior to Meditation and Prayer 
Peppermint is used for many spiritual purposes as well. Peppermint oil revitalizes depleted energy and improves positive thinking.* Peppermint also helps the mind – it enhances focus and renews lost energy.*
To purchase Edible Peppermint Massage Oil in an 8 ounce pump, see below. Also try our Edible Mint Chocolate Massage Oil!
You can also purchase pure, concentrated Peppermint essential oil, along with carrier oils, below, too.
See our entire edible massage oil collection or learn more about our quality massage oils here.
*This statement has not been evaluated by the FDA and is not intended to diagnose, treat, or prevent any disease.