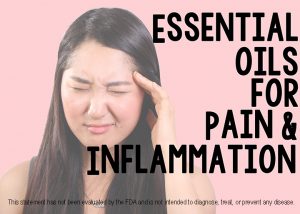 The best essential oils for pain and inflammation began centuries ago when natural herbs were used for relief but essential oils, per se, were not yet born. Throughout the years, essential oils have become tried and true remedies performing their functions as good as, or better than, prescribed or off-the-shelf pharmaceuticals.*
Essential oils work quickly, they're effective, and their aromas are heavenly. They're also safe for the stomach and liver, meaning there are no harmful side effects.
Now, Bio Source Naturals has brought the future of essential oils to the present with our custom Pain Away Spray essential oil blend for those who struggle with pain and inflammation. Our refreshingly minty blend, Pain Away, contains Wintergreen, Peppermint, and Helichrysum.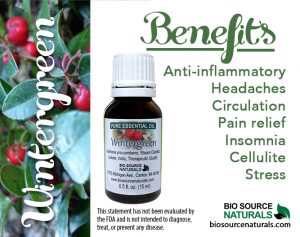 Wintergreen: Woody, cooling, and minty, wintergreen essential oil has been said to be nature's aspirin.* It has cortisone effects that have been widely documented, and is very popular with those suffering from chronic pain, arthritis, carpal tunnel, and more.* It's antispasmodic and antiseptic as well.* Use cautiously and never internally.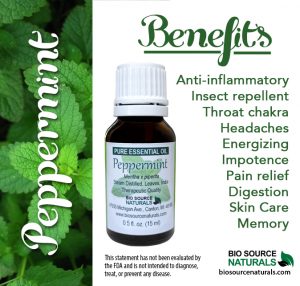 Peppermint: Fresh and minty, peppermint essential oil is energizing. It helps to clear negative emotions and is effective for pain relief, especially headaches.* It's anti-inflammatory, so it supports damaged tissue and has a cooling, soothing effect.*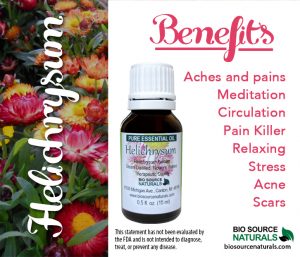 Helichrysum: Said to restore the spirit, helichrysum essential oil is not only the perfect oil to accompany meditation, but it also can be used as a pain reliever.* It eases aches and pains, and has been found to be especially helpful for relief of menstrual cramps.*
Pain Away Spray and Individual Oils
The best essential oils for pain and inflammation may be in one convenient product:
Bio Source Naturals Pain Away Spray!
Another option is to use individual essential oils diluted in a carrier oil, or create your own personal blend.
Individual oils you may want to try are Blue Chamomile, Eucalyptus, Lavender, Marjoram, Myrrh, and Tea Tree essential oils.
*This statement has not been evaluated by the FDA and is not intended to diagnose, treat, or prevent any disease.