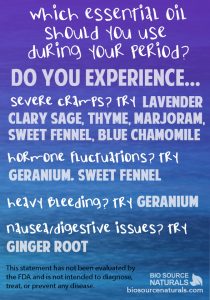 While some women are lucky enough to make it through their periods with little to no pain, there are many who struggle with debilitating cramps, making it difficult or even impossible to get through a normal day.
Finding natural pain solutions can be tricky, but essential oils for menstrual cramps can be a huge help! Discover which essential oils will work best for you.
Oils to Help with Menstrual Challenges
Lavender
If your period comes with anxiety and depression, lavender is the ideal choice. It is also traditionally used as a painkiller, and is an anti-inflammatory and muscle relaxer as well.*
Marjoram
An analgesic, marjoram essential oil dilates blood vessels, so is one of the best essential oils for menstrual cramps.* 
Sweet Fennel
Sweet fennel essential oil regulates menstrual cycles and helps those who struggle with hormone fluctuations.* Like lavender, fennel essential oil works as a muscle relaxer.* 
Clary Sage
Clary sage essential oil is great for the regulation of menstrual cycles, especially if you are irregular and struggle with painful periods.* 
Ginger
If your period experience includes nausea, vomiting, diarrhea or other digestive issues due to cramping, ginger essential oil is one of the best for helping to soothe a queasy stomach.*
Blue Chamomile
Blue chamomile essential oil reduces inflammation and relieves pain while reducing depression.*
Thyme
In a recent study, women taking thyme essential oil reported less pain than women taking ibuprofen.* Traditionally used as a pain reliever!
Geranium
Geranium essential oil is great for those who have heavy periods and experience a large amount of bleeding, as it helps to regulate hormones.*
External use only. Dilute with a carrier oil before applying.
For those who only choose certified organic, see our full line of organic essential oils here.
NEW – PMS Cycle Support Essential Oil Blend
PMS Cycle Support Essential Oil Blend helps to soothe PMS naturally. Eases cramps, calms nervous tension, and lifts mood. PMS Cycle Support Essential Oil blend contains the pure essential oils of Clary Sage, French Lavender, Sweet Marjoram and Red Thyme.  A beautiful, pleasant smell which helps ease cramps,  relieve nervous tension, and lifts mood.*  
*This statement has not been evaluated by the FDA and is not intended to diagnose, treat, or prevent any disease.