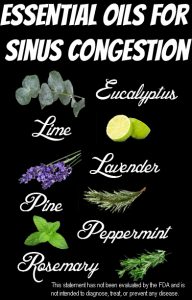 A bad cold can seemingly take over your entire life. Headaches, stuffy nose, coughing, interrupted sleep, and congestion are miserable symptoms to live with. There are plenty of over the counter decongestants, cough syrups, and pain medications, but they contain lots of chemicals and dyes, and only address symptoms. Unfortunately, they don't help kill germs, bacteria, or viruses. For true effectiveness, use essential oils for sinus infection and congestion.
Six Effective Essential Oils
Essential oils are great for clearing out excess mucus and congestion, especially in the sinus area:*
Additionally, two essential oils that may help reduce nasal congestion and colds are Peppermint and Rosemary.* Both oils are decongestants as well, and help to relieve the pressure caused by clogged sinuses.*
Breathe Clearly Essential Oil Blend
Bio Source Naturals' Breathe Clearly essential oil blend contains therapeutic quality, pure essential oils of Eucalyptus, Lime, Lavender, Pine, Peppermint and Rosemary – all of the oils listed above!
Purchase Breathe Clearly and all of the oils mentioned in this article, below. Simply "click" and add to your bag!
Tapping (EFT)
Have you heard of "tapping" (EFT – Emotional Freedom Techniques)? It's a powerful way to help reduce, or even eliminate, physical symptoms and negative emotional patterns.* EFT is enhanced significantly by using essential oils while tapping.* Order your free tapping scripts, below!
Also, read our blog article about enhanced results using EFT in conjunction with essential oils, here.
*This statement has not been evaluated by the FDA and is not intended to diagnose, treat, or prevent any disease.