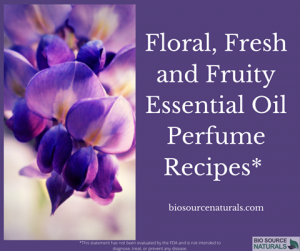 Spend a little time creating these two amazing floral, fresh and fruity essential oil perfume recipes!
The "Fruity Forest" scent is a good choice for your workweek to keep you energized and clear-headed.*
On the other extreme, "Fruity Oriental" will add to the sensuality and mystery of date night!*
Floral, Fresh and Fruity Essential Oil Perfume Recipes
Fruity Forest
Surround yourself with scents from the "citrus" category, like Lemon and Pink Grapefruit, combined with Cypress and Cedarwood, from the "woody" category.
Add a unique backdrop of "herbaceous" Melissa and Lemongrass (both having lemony scents, although they are not fruits); a hint of "floral" Neroli; and the sweet, vanilla-like "resinous" scent of Benzoin.
This blend is an energizing scent, perfect for your workweek and gloomy days when you need a pick-me-up!*
Put the alcohol and water in a dark glass bottle and add the essential oils. Cover tightly and gently shake. Allow blend to sit for 2-6 weeks, then enjoy the fragrance!
Fruity Oriental
Create an exotic scent, perfect for date night! This blend combines Patchouli, from the "earthy" category, with a strong "floral" presence that comes from Neroli, Jasmine, Geranium, and Ylang Ylang.
Add a slight "citrus" backdrop of Bergamot, and you'll be irresistible!
Use a mini funnel to mix this recipe in a roller bottle. Seal the bottle and shake gently, but thoroughly. Carry in your purse or pocket to renew the scent, wherever you are.
*This statement has not been evaluated by the FDA and is not intended to diagnose, treat, or prevent any disease.