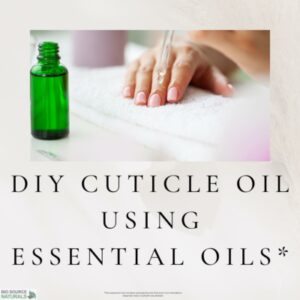 Welcome to the ultimate guide on how to make your own cuticle oil using essential oils! Ditch the store-bought options and create a personalized blend that is nourishing and soothing to your cuticles. Follow our step-by-step guide below and get ready to show off some seriously healthy nails.
Ingredients Needed
Sweet Almond Oil – This lightweight oil is easily absorbed and rich in nourishing vitamins and minerals that help to moisturize and protect the skin around your nails.*
Jojoba Oil – Jojoba oil has antibacterial, antioxidant, and anti-inflammatory properties, making it a great addition to your cuticle oil blend.*
Carrot Seed Oil –

Is not just for nails but for skin. It's rich in beta carotene and fatty acids, vitamins A and E, and pro-vitamin A. It's great at restoring moisture that dry, cracked skin so desperately needs. Considered to be one of the best essential oils for mature skin.

Grapeseed Oil –  Is noted for its great skin moisturizing properties as well as regenerative and restructuring values. Grapeseed oil is an excellent non-greasy oil to use and could be further enhanced by blending with another carrier oil such as almond oil. 
Essential Oils – Choose essential oils with skin-healing and moisturizing properties like tea tree oil, lavender oil, or rosehip oil. We'll show you our favorite blends in the next section!*
Benefits of Making Your Own Cuticle Oil
Personalized – You get to create a blend that addresses your specific skin concerns and preferences. Plus, it's fun to experiment with different scents and oils!
Affordable – By making your own cuticle oil, you save money in the long run and can control the quality of the ingredients that go into the blend.
Effective – Store-bought cuticle oils can contain synthetic fragrances and harsh chemicals. By making your own, you can ensure that your blend is made with high-quality, natural ingredients that are gentle and effective.
Step-by-Step Instructions
Step 1: Dilute essential oils. Mix your chosen essential oils with carrier oil.  We recommend using 10-15 drops per two tablespoons of carrier oil.
Step 2: Combine all ingredients.  Mix your carrier oil blend with a small funnel and pour it into a dropper bottle. Shake well to combine.
Step 3: Apply and massage.  Apply your cuticle oil to your nails and massage gently help your skin absorb all the nourishing goodness!
Different Essential Oils to Try
Tips for Using Cuticle Oil
Be consistent – For best results, apply cuticle oil every day to keep your nails healthy and moisturized.
Massage for better absorption –  Take the time to massage your cuticle oil into your skin and nails to help it penetrate deeply.
Experiment with blends  –  Try different essential oils and carrier oils to find the perfect blend for your skin type and preferences.
Avoid biting your nails –  Biting your nails can damage the skin around them and cause more dryness and irritation. Use cuticle oil to keep your skin healthy and hydrated, and avoid the temptation to bite!
FAQs
Q1: How often should I use cuticle oil?  A: We recommend using cuticle oil at least once a day to keep your nails healthy and hydrated.
Q2: Can I use cuticle oil on my toenails? A: Absolutely! Cuticle oil is great for moisturizing and protecting all your nails and not just your fingernails.
Q3: Can cuticle oil help my nails grow faster? A: While cuticle oil is not a magic solution for growing longer nails, it can help to strenghten and protect your nails from damage which can promote healthier, longer nails over time.
Summary
DIY cuticle oil is a simple and affordable way to keep your nails looking and feeling healthy. Choose high-quality carrier oils and natural essential oils to create a personalized blend that addresses your specific skin concerns. Use cuticle oil daily to keep your nails moisturized, strong, and healthy.
*This statement has not been evaluated by the FDA and is not intended to diagnose, treat, or prevent any disease.