Essential oils for meditation are proven to be incredibly beneficial (check out the science behind it). First of all, they boost your health, happiness,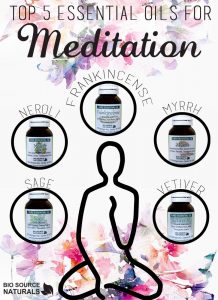 and productivity.* This includes your mental health, too.
So, if you're struggling with anxiety or depression, meditation can definitely help! The hard part behind meditating, however, is the meditating part!
Since our minds are often preoccupied with random thoughts, to do lists, and what-if situations, meditating itself is often challenging. But meditating can really help quiet what is often called "monkey mind."
Hence, essential oils for meditation can help you relax and center yourself.* Also, aromatherapy can even work as a trigger—when you smell a particular oil, your brain knows that it's meditating time.
Therefore, we've compiled a list of our five favorite oils that will help you in your meditation practice. We also tell you why we love them so much:
Frankincense
Frankincense is mentioned several times in the Bible. It's known to be a very holy fragrance. Especially relevant is that it helps stimulate enlightenment and get rid of negative energy.* 
Myrrh
Myrrh helps reduce your stress and increase focus.* Therefore, it can be beneficial for your meditation practice. It will also protect and purify you!*
Vetiver
Because vetiver essential oil is a grounding oil, it is especially helpful if you have a hard time focusing during meditation. Furthermore, it is useful if your mind often wanders.*
Ylang Ylang
Ylang Ylang essential oil is beneficial to a meditation or yoga workouts. Ylang Ylang essential oil seduces the senses and relaxes the mind with an intensely sweet spicy, floral scent.  
This is a strong smelling essential oil, so use sparingly.
Sage
Finally, you've likely heard of burning sage in ceremonial practice in tribal cultures. Because of this, sage is very cleansing and purifying, and helps to remove negative energies.* It's great for meditation since it helps restore balance as well.*

In conclusion, you'll find BioSource Naturals Grounding Essential Oil Blend a valuable tool to use in your meditation practice. It's available in a concentrate, roll-on, and spray.
All products mentioned are below the video Click here to learn how the measured vibration of individual essential oils can help you achieve your desires using the Law of Attraction.
*This statement has not been evaluated by the FDA and is not intended to diagnose, treat, or prevent any disease.