Essential oils for fear can help you manage all kinds of fears. Because fear is what triggers the flight-or-fight response, it will almost always help you get out of trouble. It also lends extra strength and a quicker reaction time.
However, there is often too much fear in our lives. As a result, we experience constant anxiety and stress. Maybe you're living with many fears in your own life. Read on to learn about the best essential oils for dealing with fear.
Many Types of Fear and the Essential Oils That Can Help
First of all, there are different levels of fears: some seem like they're paralyzing and others might be nagging. As a result, excessive fear can lead to panic attacks and disorders, phobias, anxiety, etc.
Therefore, discover which essential oils for fear are best for you!*
Essential Oils For Fear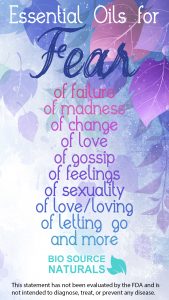 Sandalwood
Cypress
Lemon
Bergamot
Orange
Cedarwood
Basil
Frankincense
Clary Sage
Lavender
Roman Chamomile
Fear of Failure
Fennel
Ylang Ylang
Frankincense
Basil
Fear of Madness
Fennel
Cedarwood
Ylang Ylang
Frankincense
Fear of Change
Ylang Ylang
Frankincense
Lavender
Fear of Love
Jasmine
Fear of Gossip
Cypress
Fear of Feelings
Fennel
Frankincense
Sandalwood
Fear of Sexuality
Ylang Ylang
Patchouli
Fear of Love/Loving
Jasmine
Ylang Ylang
Fear of Letting Go
Frankincense
Cypress
Especially relevant is that you can use essential oils for fear individually or make a blend using a few different oils. Rather than suffer with fear and all its discomfort, why not use essential oils as a helpful tool to find relief instead!
Learn more how essential oils can help calm fear here.
*This statement has not been evaluated by the FDA and is not intended to diagnose, treat, or prevent any disease.
Source: Worwood, Valerie Ann, The Fragrant Mind, New World Library, 1996