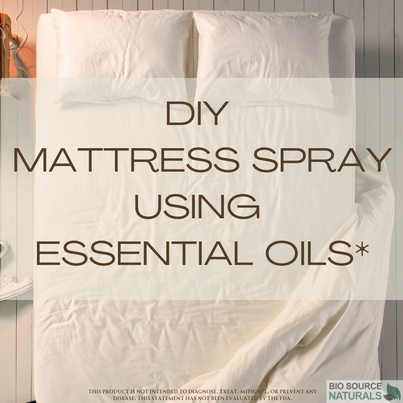 We love our DIY projects using essential oils, and have found that they work just as well (if not better) than store-bought brands. One of the best things about making your own mattress spray is that it's easy to customize for your needs and preferences. You'll want to start with a base liquid such as water or witch hazel. We like using water because it won't stain fabrics or leave behind any residue, but if you want more of an aroma in your spray then opt for witch hazel instead. Then add essential oils for their benefits such as relaxation or repelling bugs!
Benefits of Using Essential Oils in a Mattress Spray
Sleep & Relaxation Mattress Spray
Welcome to the world of restful and relaxing sleep! A natural mattress spray using essential oils will help you create a welcoming and peaceful sleep environment. Say goodbye to harsh chemicals and hello to the soothing scent of essential oils.
If you want to make a mattress spray that will help you relax, add lavender or peppermint essential oils. Both of these fragrances have been shown to reduce anxiety and promote calmness.
Biosource Naturals Sweet Dreams Essential Oil Blend is made with pure essential oils of Roman chamomile, rose, jasmine, lavender, vanilla and nutmeg. This blend is calming, allowing you to relax, feel serene, and fall asleep.*
Antimicrobial & Antifungal Mattress Spray
Tea tree essential oil is a powerful antiseptic, antifungal and antimicrobial agent. This oil is a natural essential oil that's perfect for combating bed bugs without using harsh chemicals or pesticides. To use tea tree essential oil for bed bugs, mix 20 drops of tea tree oil with one cup of water in a spray bottle. See blog article "Essential Oils That Can Help With Those Pesky Bed Bugs" for more essential oils that can be beneficial for eliminating bed bugs.
Bandits Essential Oil Blend is uplifting and energizing. Legend says that thieves used this blend of pure essential oils to prevent illness while robbing the sick during the Bubonic plague. This spicy smelling blend is similar to the popular Thieves essential oil blend and is a great option for using in a mattress spray. See "7 Ways to Use Bandits Essential Oil Blend" for the many ways to use Bandits.
Keep Insects at Bay Mattress Spray
Use cedarwood, citrus or pine essential oils to keep insects like dust mites and bed bugs away from your mattress.
Cedarwood essential oil will not kill bed bugs but will repel them with its unpleasant smell. Cedarwood essential oil contains strong sedative properties – a very important benefit for the effects of sleep. Sedatives can help improve sleep quality as well as reduce restlessness by triggering the release of serotonin in the brain. Our Sweet Dreams Essential Oil Blend is made with pure essential oils of Roman chamomile, rose, jasmine, lavender, vanilla and nutmeg. This blend is calming, allowing you to relax, feel serene, and fall asleep.*
Citrus essential oils have a powerful insecticidal effects, so if you don't like cedarwood's scent (or if it doesn't work), try using orange, lemon, or pink grapefruit essential oils instead. Using citrus essential oils are very beneficial for refreshing mattresses and making them smell great. You may also want to try our Citrus Essential Oil Blend which contains lemon, lime and orange pure essential oils.
Pine essential oils are another good option for a mattress spray as they kill fleas on contact and repel ticks and bedbugs! Black pine essential oil is used traditionally by Americans to ward off bedbugs and lice.
The vapors from scots pine essential oil also opens the sinus and breathing passages. Biosource Naturals Breathe Clearly Essential Oil Blend contains aromatherapy essential oils that are understood to relax airways* because of the unique properties of some essential oils it contains. Breathe Clearly Essential Oil Blend contains eucalyptus globulus, lavender, pine, and lime. 
Pet & People Safe Mattress Spray
Many essential oils are safe for people and pets. They can help with sleep, relaxation, allergies, asthma and pain relief. They also have a calming effect on the body that helps relieve stress. Make an all-purpose spray that's safe for people and pets by combining a few different essential oils, such as lavender and lemon essential oil, in your spray bottle.
Be sure to checkout "Essential Oils for Dogs" were we have highlighted eight (8) essential oils that have been known consistently to make the safe cut for use with dogs plus showing various benefits.  We have also compiled a list of essential oils to AVOID when you have dogs around.  It is available for a FREE download along with the chart to the left "Beneficial Essential Oils for Dogs*".
Calming Mattress Spray
The best part about using essential oils to make your own mattress spray is that you can customize it to fit your needs! If you need something more calming before bedtime then try combining lavender or Roman chamomile essential oils with some tea tree oil essential oil  (which has antibacterial properties). If you tend to get stuffy during cold seasons then add peppermint or eucalyptus essential oils into the mix as well!
You may also like our Calming Essential Oil Blend to make your mattress spray.  Calming Essential Oil Blend contains pure essential oils which are relaxing, calming and help reduce anxious moods thus helping you to fall asleep faster.*  Calming Essential Oil Blend contains the pure essential oils of lavender, rose geranium, cedarwood and lemongrass.
Keep Odors at Bay Mattress Spray
You can create a homemade mattress spray to keep odors at bay and give you a relaxing sleep with the help of essential oils. Pour about 25 drops of your favorite essential oil to 2 tablespoons of baking soda and stir to combine. Lemon and lavender essential oils are great choices, but the refreshing scent of eucalyptus essential oil is an all time favorite. Pour the baking soda and essential oil mix into water or witch hazel and stir, then funnel into your spray bottle.