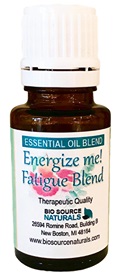 Energize Me! Fatigue Essential Oil Blend contains Eucalyptus globulus, Rosemary ct Verbenone, and Pink Grapefruit pure essential oils.
Fatigue is a state of tiredness that can last for days, weeks, or even months. It is different than tiredness caused by not getting enough sleep or general physical exhaustion. Fatigue can be caused by many things, including mental exhaustion and stress. There are many ways to fight fatigue without medication such as exercise and diet changes, however essential oils can also be used to help relieve fatigue.
How Essential Oils Affect You
The scent of an essential oil impacts the brain through the olfactory system because when a fragrance is inhaled, the odor molecules travel up the nose, and are trapped by olfactory membranes. These membranes contain approximately 800 million nerve endings, which receive the micro-fine, vaporized oil particles. They are carried along the axon of the nerve fibers and connected with the secondary neurons in the olfactory bulb in the brain.
The olfactory bulb then transmits the impulses to the limbic system which is directly connected to areas of the brain that control heart rate, blood pressure, breathing, memory, stress levels and hormone balance. Thousands of scientific studies have shown that essential oils have profound physiological and psychological effects.
See our references at the bottom of this page for additional information.