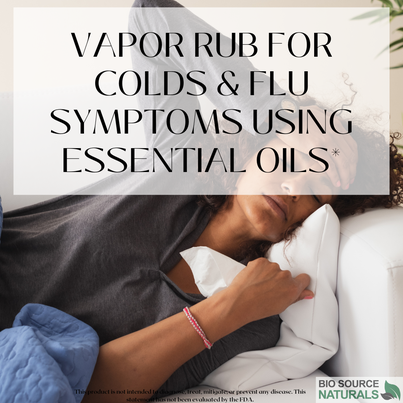 Essential oils may ease symptoms of a cough or cold by soothing the throat, a runny nose, sinus congestion, muscle aches and even trouble sleeping. This recipe for a vapor rub for colds and flu is one you will be glad to have around when you need it.
This homemade vapor rub using essential oils can be used for temporary relief of, sneezing, sniffling, a stuffy nose, even support your immune system. It can also sooth those sore muscles, take care of a headache, temporarily support clear breathing, and help you get a good night's sleep by soothing a cough.
Essential Oils Used In Vapor Rub for Colds & Flu Symptoms
Peppermint Essential Oil
Due to its menthol constituents, peppermint essential oil helps aid in respiratory disorders, such as dry coughs, asthma, bronchitis, sinus congestion, pneumonia, and tuberculosis.* It opens and clears sinuses, which lessens the feelings of stuffy head and nose. Peppermint can also helps to relieve headaches reduce fever and lessen aches and pain.
Eucalyptus Essential Oil
Eucalyptus essential oil is known to soothe sore throats, coughs, bronchitis, sinusitis, open airways to ease congestion naturally.  Eucalyptus has abilities to mend the body by relaxing stiff muscles often caused by colds and the flu.*
Lemon Essential Oil
Lemon essential oil helps slow respiratory problems related to colds and coughs by helping to open airways and loosen mucous phlegm. The body is aided from lemon essential oil due to its abilities to ward off infections, sickness, and fatigue. 
Lavender Essential Oil
Lavender essential oil is beneficial for soothing and deep relaxation and as a sleep aid.  Lavender is also a natural pain reliever, takes the bite out of headaches, and combats seasonal allergies.
Tea Tree Essential Oil
Tea tree essential oil is most frequently used to alleviate the symptoms of colds, flu, and breathing problems. This lovely essential oil is renowned for assisting the issues and supporting the body to help fungal infections, viral infections, bacterial infections, colds, influenza, cold sores,   Tea tree essential oil is antimicrobial, antiviral, antibacterial and anti-inflammatory so it helps lessen sore throat, coughs, and congestion. Tea tree is commonly used for opening the breathing passages, relieving pain and discomfort. The feelings of well-being and serenity produced by inhaling the vapor of tea tree essential oil are very well documented. 
Frankincense Essential Oil
Frankincense essential oil is renowned as a natural remedy for fevers, coughs, colds, bronchitis,  and laryngitis*   
Cedarwood Essential Oil
Cedarwood essential oil can be used as an antifungal, antiseptic, and astringent. It can also help break up mucus and, like lavender oil, has a calming effect. Frankincense oil has anti-inflammatory properties that may help to ease coughs and bronchitis.
Let's Make the Vapor Rub for Colds & Flu Symptoms Using Essential Oils
Add 2 tablespoons of beeswax to a heat-safe glass measuring cup or bowl. Place heat-safe glass measuring cup in pot of simmering water.  The simmering water will gently warm the measuring cup and melt the beeswax (this technique is called the double boiler method).  Stir beeswax occasionally as it melts. You can find beeswax on Amazon, Michaels, Hobby Lobby, Walmart.
Add 1/2 cup coconut oil, stirring occasionally.  Melt completely until it's completely liquid and no pieces of beeswax remain.  This can take 10-15 minutes.
Remove from heat and allow to cool for a couple minutes then add the following essential oils for proper age group you plan to use the vapor rub for.
Adults and Children over 10 Years of Age:
Children Ages Two to Five Years of Age
Children Ages Six to Nine Years of Age
Note: Not recommended for children under two years of age.
Pour into airtight container (glass, metal, plastic #1 PET & plastic #2 HDPE jars are all safe for diluted essential oil blends like this). Recipe makes 4-5 oz of vapor rub. You can find containers on Amazon, Michaels, Hobby Lobby, Walmart.
Allow to completely cool and solidify all the way through before putting on the cover. Placing in the refrigerator will speed this process up.
Note: Beeswax is hard to clean up with just soap & water.  So before it hardens, use paper towels to wipe out the glass bowl/measuring cup and any utensils you used to stir the mixture.  Then once you've wiped off as much as you can, wash as usual with soap and water.
Ways To Use the Vapor Rub for Colds & Flu Symptoms
Apply a thick layer to upper chest.  Keep clothing around chest and throat loose to allow scent to reach nose and mouth.  Cover with with a warm dry cloth.
Apply a light coating of the vapor rub right under nose. The vapor rub might be a little hard compared to store-bought vapor rub, but it will melt on contact with skin.
Apply to upper chest and under nose, you can

 

apply vapor rub to feet and cover with socks.
Biosource Naturals Blends for Congestion, Headache, Sore Muscles & Sleep Symptoms
Breathe Clearly Essential Oil Blend
Breathe Clearly Essential Oil Blend contains aromatherapy essential oils that are understood to relax airways* because of the unique properties of some essential oils it contains. Breathe Clearly Essential Oil Blend contains eucalyptus globulus, lavender, pine, and lime. 
Headache Essential Oil Blend
Headache Essential Oil Blend combines peppermint, lavender, eucalyptus, rosewood, and rosemary. Essential oils applied topically have traditionally helped headaches or migraines because some essential oils have properties which relax, lift mood, stimulate, balance energy and revitalize.*
Sore Muscle Rub Essential Oil Blend
Sore Muscle Rub Essential Oil Blend combines German blue chamomile, eucalyptus globulus, lavender and peppermint which are calming and cooling, increasing flexibility and energizing and uplifting the spirit.*  
Sweet Dreams Essential Oil Blend
Sweet Dreams Essential Oil Blend is made with pure essential oils of Roman chamomile, rose, jasmine, lavender, vanilla and nutmeg. This blend is calming, allowing you to relax, feel serene, and fall asleep.*
* This product is not intended to diagnose, treat, mitigate, or prevent any disease. This statement has not been evaluated by the FDA.