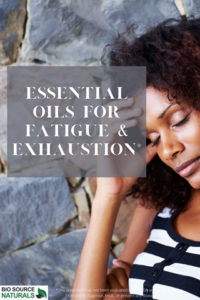 Many of us often feel fatigue and exhaustion and using essential oils for fatigue and exhaustion can help. We run on coffee and adrenaline, pushing ourselves to stay up and finish that work assignment, watch one last television show. Perhaps it's depression that creates an unending sense of fatigue, or stress, or even an underlying physiological reason. Low blood pressure, thyroid issues, anemia (iron deficiency), arthritis, and many other physical issues can cause fatigue and exhaustion.
It is actually estimated that 40% of exhaustion cases are caused by psychological or lifestyle reasons that can be worked on. We can start with the workplace: are you hunched over all day? Stuck next to whirring fax machines, printers, computers? If you know the cause of your exhaustion, it's that much easier to assess how to go about remedying it. Essential oils have a very long tradition of helping many different sorts of fatigue. Check out the suggestions below based on what sort of exhaustion you're facing, and how essential oils for fatigue and exhaustion can support you find relief! We've suggested some blends as well as individual oils.
Sweet Dreams Essential Oil Blend to Sleep Well
Our Sweet Dreams Essential Oil Blend is a calming blend that allows you to relax, feel serene, and fall asleep.* Use in a diffuser or try our spr
Sweet Dreams Essential Oil Blend Safety Tips
Do not use while pregnant or nursing.
Not recommended for skin care. In very high doses, may be psychotropic.
It is not recommended to use this product for those with a history of cancer, on infants, the elderly, people with genetic susceptibility to cancer.
For external use only. See our Safety Information page for further details when using essential oils.
See our references at the bottom of this page for additional information.
*This product is not intended to diagnose, treat, mitigate, or prevent any disease. This statement has not been evaluated by the FDA.