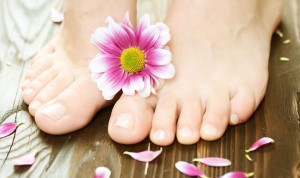 Essential oils for athlete's foot have anti fungal properties listed below. You can use essential oils for athlete's foot by rubbing the oils (diluted with carrier oil) onto your feet.* You can also create a foot bath. Simply add a few drops of the oils below to your tub. Add bath salts to warm water.
–Oregano essential oil
–Thyme essential oil
–Lavender essential oil
–Peppermint essential oil
–Myrrh essential oil
–Lemongrass essential oil
One study found that a foot bath (107 degrees F) with salts and either oregano, thyme, cinnamon bark, lemongrass, clove, palmarosa, peppermint, lavender or geranium significantly reduced fungi associated with athlete's foot in vitro.
See our references at the bottom of this page for additional information.
*This statement has not been evaluated by the FDA and is not intended to diagnose, treat, or prevent any disease.