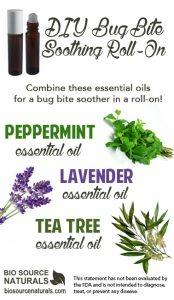 Bug bites are a huge pain in the summer—literally. While they are itchy and uncomfortable, bites from common bugs like mosquitoes, mites, and fleas are usually harmless.
It's important to identify what bit or stung you, however. Often, bites from fire ants, wasps, hornets, and bees may cause you intense pain or even an allergic reaction.
Identifying the culprit may be the difference between either going to the emergency room due to a potentially dangerous allergic reaction, or simply applying a DIY soothing bug bite roll-on.
Especially relevant is that BioSource Naturals makes their DIY recipe with essential oils that are effective in helping you speed up the healing process.
It also provides immediate relief — without the toxic chemicals found in most commercial insect repellants.* And you make it in a convenient roll-on for fast and easy application!
Our DIY soothing bug bite roll-on is made with the following essential oils:
Peppermint: Peppermint essential oil is very cooling against your skin, and soothes away pain.*
Lavender: Lavender essential oil is the ideal healing oil! It helps your pesky bug bites heal, while soothing and relaxing.*
Tea Tree: Tea Tree essential oil is purifying, and helps to soothe redness and irritation, making it the perfect added ingredient for your bug bite soother.*
DIY Soothing Bug Bite Roll-On
Ingredients
Empty roll-on bottle
5 drops peppermint essential oil
3 drops lavender essential oil
1 drop tea tree essential oil
1 tbs sweet almond oil (or other carrier oil)
Directions
Combine the essential oils with your carrier oil of choice in the empty roll on bottle. Shake well before use!
Finally, simply roll the blend over your offending bug bite for immediate relief.
Read all about our useful essential oil roll-ons here. They're convenient with safe skin contact. Great for purses and pockets! 
*This statement has not been evaluated by the FDA and is not intended to diagnose, treat, or prevent any disease.