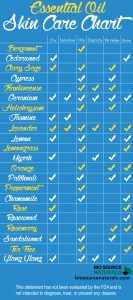 Everyone's skin is different—some people have oily skin, others struggle with acne or wrinkles, or even eczema. No matter your skin type, essential oils can help! See our DIY Essential Oil Skin Chart.
Bio Source Naturals has compiled a skin care chart, which you can download below, that tells you what essential oils can be used for your type of skin or condition in a DIY Essential Oil Skin Chart.
Download our other free charts below this article.
Check out our anti-aging skin care products, here. Custom-blended and beneficial!*
*This statement has not been evaluated by the FDA and is not intended to diagnose, treat, or prevent any disease.